Antivirus and anti malware software doesn't have to cost a penny and still does a great job. So there's no excuse why you are not running a software to protect your machine or device.
What is Antivirus and anti malware software?

It is a program or set of programs that are designed to prevent, search for, detect, and remove software viruses, and other malicious software like worms, trojans, adware, rootkit and more.
I've gone through a few pieces of sotfware and the one i've ended up using for the past year is Avast! on my Macbook Pro.It protects you against viruses and email spams.
Once the software is installed you'll see a small icon in the top bar which allows you to open up the dashboard to configure your settings or check reports. I highly recommend you turn on everything (file system, email, web shieids) to actively scan in the background. If you don't see the shields, click on preferences in the Avast! dashboard. This will ensure when any files downloaded or retrieved will be automatically scan before it lets you access it.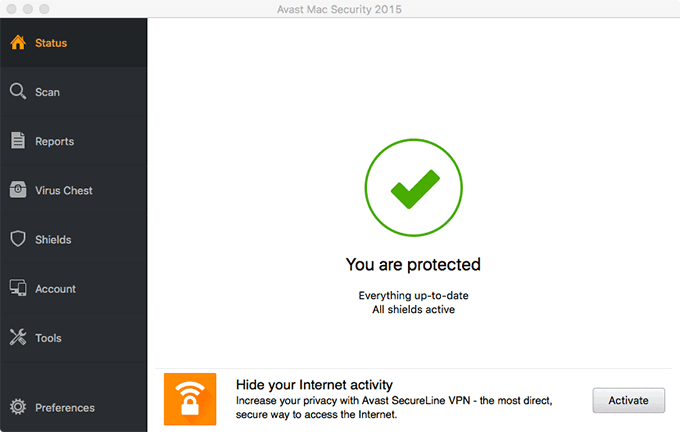 You will need to register your product for auto updates, again highly recommended to keep your virus definition lists up to date. This is a dat file to checks against for any known viruses.
It uses popup notifications so each time it finds an infected file or new virus update list, you will get a popup noitfication message appear on your desktop.
It also provides an option to install a plugin for Firefox or Chrome web browsers. You should install this plugin, it protects you from malware sites and also warns you of any malicious sites on search result pages so you can make an informed choice to visit or not.  
Another thing i normally do it scan my Macbook once a week. Avast!, offers a tool to do a full scan or select a specific directory to scan. You can even manually scan files and compressed files.
Some virus software will fasely report a certain file as a virus. I've not had this experience with Avast!. Nornally, when it detects a virus, the virus gets quarantined. This is standard in every virus software. Why do virus software do this? in case of a false positive. Some files are not virus and occassionally it made make mistakes so because it was quarantined, at least you have the options to retrieve the files again as oppose to if the software had completely deleted it. Virus are harmless unless you execute it or some program is ran to access and execute the virus infect your computer.
It does email scans for adware amd malware attachments in emails retreive from Mac mail. It doesn't scan for spam emails but this is something you need to protect on your mail server or thru an email service.
Avast! offers a VPN service but i have no idea how good it is because i use PureVPN and that is good enough for me.
So there you go, you are protect from the surfing the web, email communications and file downloads.