What is a VPN?
A virtual private network also known as a (VPN) is a private network that extends across a public network or internet. It enables users to send and receive data across shared or public networks as if their computing devices were directly connected to the private network.

VPNs can provide functionality, security and/or network management benefits to the user.[1] But they can also lead to new issues, and some VPN services, especially "free" ones, can actually violate their users' privacy by logging their usage and making it available without their consent, or make money by selling the user's bandwidth to other users.[2]

Some VPNs allow employees to securely access a corporate intranet while located outside the office. Some can securely connect geographically separated offices of an organization, creating one cohesive network. Individual Internet users can use some VPNs to secure their wireless transactions, to circumvent geo-restrictions and censorship, and/or to connect to proxy servers for the purpose of protecting personal identity and location. But some Internet sites block access via known VPNs to prevent the circumvention of their geo-restrictions.
One of the popular uses of VPN is to circumvent regional restrictions (known as geoblocking) on certain websites or online TV channels. People use VPN for many reasons, from Journalists and political dissidents to get around state blocked websites to users who just want to access local websites aboard (ie, UK resident who wants to watch bbc.co.uk online outside of their own country while on holiday). 
In my case, it was a friend that approach me asking how his parent can watch Chinese channels on YouKu outside of China on their Android box because after 6 months it stopped working and the box was restricted. They tried contacting the supplier but to no avail so it was time to find another solution. 
I've never setup a VPN before so was up for a good challenge. At first, it was easy enough to install a VPN client on  a PC machine and it would pretty much do everything for you with a couple of clicks. The problem is that, the Android box is not a computer but a device for streaming TV channels so how can you simply install a VPN client? it runs Android so that was easy enough to root it with the right tools, which is what i did and then download a VPN client android app like OpenVPN (you cannot use GooglePlay since this only allows installation via web browser or device, something that was not available on the Android box).
Furthermore, what if they had more than one device they want to use but that device does not or cannot install a standalone VPN client. This means you just need to connect any device to the Asus router like a hotspot to access VPN.
Once OpenVPN.apk was installed i headed over to PureVPN to purchase an account. You need a service that provides access to VPN servers to connect to and use.
I wouldn't go into details how to root and install the apk on the Android box because this article is about getting a router to work for VPN.
This worked well but temporary. After a day, the restriction came back on the Android box, which meant you cannot do anything (ie, access the apps). It was something to do with the DNS settings and also it was annoying because each time the box was powered off and turned back on, you had to reconfigure the VPN client to connect again.
So the only option was to use a router and route any device that wanted to use the VPN connection.
We didn't want to use the main modem for the VPN since they still wanted to browse the internet as normal. So a second router what preferred for this setup.
Initially, i was really interested in using a Raspberry Pi as an access point and VPN since i have a Pi 3 sitting around and it was going to be fun learning but I quickly ruled that out on the basis that if the Pi starts to play up, i would have to sort out the issue. Not something i was particularly keen on as they lived quite far from me. 
Eventually, we found a cheap (and had a built-in VPN client) router device on Ebay. It is an Asus RT-AC68U but for this guide, you can use any of the following model: Asus RT-N16, Asus RT-N18U, Asus RT-N66U, Asus RT-AC66U and Asus RT-AC87U.
Don't forget you need a VPN service, i recommend signing up with PureVPN, their service has been cheap, reliable and the speed is surprisingly good as well as great support. Another great thing is that they do not monitor user activity nor do we keep any logs so have no record of your activities.
Okay, let's get straight to setup the Asus router modem.
The DSL modem is main one plugged into telephone line to ISP (Internet Service Provider), it has a 4 port LAN (Local Area Network) connection and the Asus router that is to be used for VPN is connected to the DSL modem from its own modem/DSL port to the DSL LAN port. See diagram image:
Image taken from Hidemyass

The standard DSL modem already has an IP address of 192.168.1.1 so we want to make the router running VPN on a different subnet (networks) to avoid IP address conflict. So we will assign 192.168.2.1 for the router.
Let's login to the Asus router via web browser. I hooked up my macbook with Asus router via LAN. Consult your manual on how to login as admin. Do not connect your DSL modem with Asus router yet, we'll do that later.
Here is what we will do: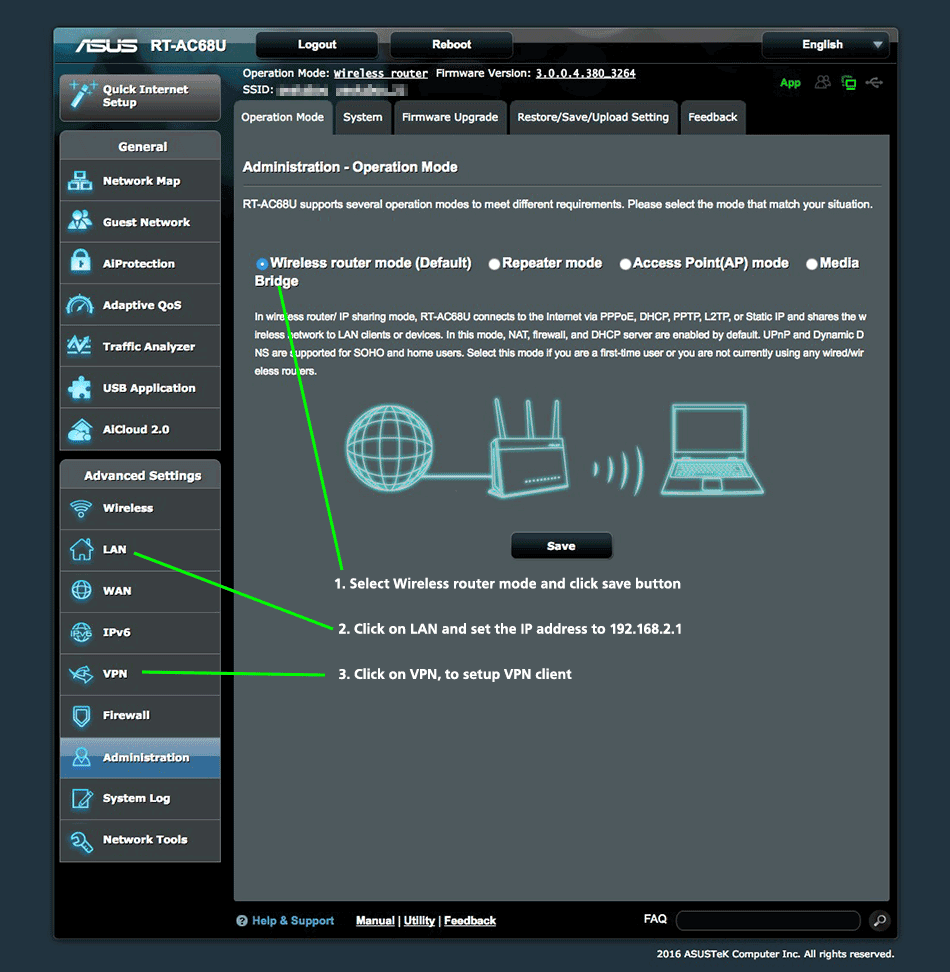 1. Use 'Wireless router mode' and setup your wireless connection. Consult your manual on how to add SSID (wireless name) and WPA password.
2. Setup your LAN IP, give it 192.168.2.1 and leave subnet as 255.255.255.0, see image below:

Now you can connect Asus router to your DSL modem via LAN port. Reboot Asus router. View the 'Network Map', you should see that it has connected to the Internet. If you have gotten this far, you can safely connect via wireless
3. Now we can configure the VPN client. Click on VPN under advanced settings and then the VPN client tab. Click on add profile and you should see something like this:
If you you have an account with PureVPN you can do the following (other providers are more or less the same):
Description: PureVPN, PureVPN US, PureVPN UK etc (Anything you like)
VPN Server: Insert any server, click here to get the server list
Username: Insert Username provided by PureVPN
Password: Insert Password provided by PureVPN
PPTP Options: Auto (For Streaming purpose select None)
Click OK
Then, click on activate button. If all goes well, you should see a blue circle tick under connection status column meaning you have successfully connected to a VPN server.
Now back to your Android box, configure the network settings to auto pick up the network. If you are connecting via LAN, you will need a CAT5 cable. Use ethernet connection settings and let it auto acquire IP and network. If wireless, again use wireless settings and connect to your SSID name you setup (wireless name), let it auto acquire IP and network.
I also setup remote login for admin via web interface. This is so i can remote access to the Asus router if there were any issues with VPN connection. I don't particular recommend to enable this feature if you manage your router from within your home only.
Furthermore, it would be a waste just to use a VPN service for the home. With PureVPN, it allows up to 5 simultaneous connections so you can take advantage of using if you are on holiday or in public places. Simply download and install the VPN client (for Mac or Windows) on your machine, , or even any mobile devices. Enter your user and password provide by PureVPN and find a country to connect to, and you are good to go. Plain and simple...